Fun Project Idea: DIY Sugar Cube Scrub
February 28, 2017 09:12
One of the suppliers I work with sent this really easy tutorial for a sugar cube scrub. This would be a fun project with kids or for a girlfriend's evening or you could make a bunch as gifts for friends or family. Brambleberry sells the kit at their website but you could likely get similar ingredients at Michaels or other online cosmetic suppliers. If you aren't sure which suppliers are good, drop me a note in the comments and I can offer suggestions. A few pieces of advice: 
Please don't use food color to color your cubes. They will stain you and your bathtub! Get a bath and body approved colorant. The same for fragrance; products such as vanilla extract might smell nice but they are not intended for this use. 
This calls for using a lidded soap mold, however, that doesn't seem necessary. Most any rectangular plastic container should work fine. You could also double or triple the recipe and use a silicone brownie pan.
Any light oil will be fine and you can get many of them at a larger local grocery store. This uses sweet almond oil, which is great but avocado, grapeseed or apricot kernel oil will work just as well.
There is a video tutorial in the link below if you want to watch.
***
https://www.soapqueen.com/bath-and-body-tutorials/soaks-and-scrubs/diy-sugar-scrub-cubes/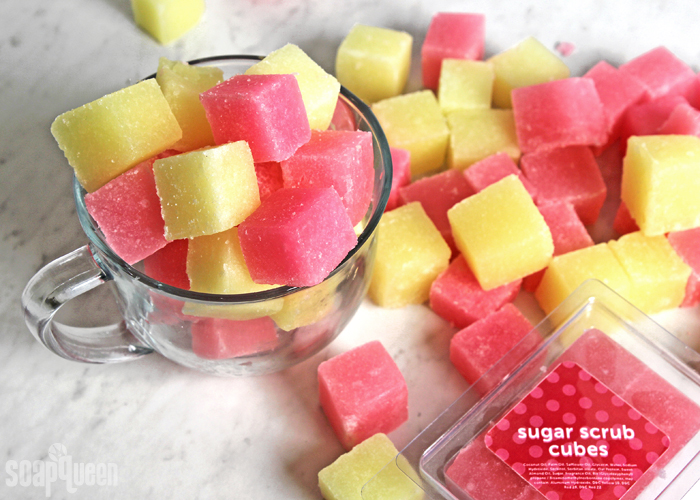 DIY Sugar Scrub Cubes
Prep time: 
Total time: 10 mins
These Sugar Scrub Cubes are so easy to make! They exfoliate, cleanse and moisturize.
Serves:
12 cubes per batch
Ingredients
2 Rectangle Molds with Lids
2 oz. Clear Melt & Pour Soap Base
2 oz. Sweet Almond Oil
2 mL Fresh Bamboo Fragrance Oil
6 oz. White Granulated Sugar
Fired Up Fuchsia Colorant
Fizzy Lemonade Colorant
Instructions
Chop 2 ounces of Clear Melt and Pour Soap into small, even pieces. Place into a heat safe container. Measure 6 ounces of granulated sugar into a separate container. Have two Rectangle Molds with Lids ready to go, with the lids off.
Chop off a hunk of the Fizzy Lemonade Color Block or Fired Up Fuchsia Color Block (depending on what color you'd like to make) and place it into the container with the melt and pour soap. Add 2 mL of Fresh Bamboo Fragrance Oil.
Place the container in the microwave for about 35 seconds, or until the soap is completely melted but not boiling. Remove from the microwave and stir to thoroughly mix together the soap, colorant and fragrance oil.
Pour the sugar into the mixture and stir very quickly and rigorously for about 10 seconds. Quickly pour the mixture into the 2 molds. If it becomes too thick to pour, place the mixture into the microwave using 5-10 seconds to loosen the mixture. Don't microwave for too long, or the sugar can melt.
Allow the cubes to harden in the mold for several hours until completely cool and firm. Release from the mold and cut into 6 cubes. Store the cubes in an airtight package to prevent glycerin dew.
To use, break up the scrub slightly with your hand along with warm water, and apply to skin. These scrubs are great for the body, but may be a little harsh on the face. Enjoy!